Too Close
Up close and personal with the wonderful Becca.
A shot from our very successful orange/green shoot back in 2007.
There is also a wider crop: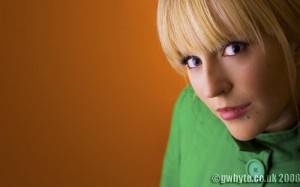 but I'm not sure if it's any better. The extra space creates a strong contrast with the very packed right side, but is somewhat dead-space, however the gradient in the orange helps draw your eye to the right hand side which is far off center, creating an interesting asymmetry, but then the closer crop has an intimacy about it which is missing from the wide crop.
What do you think? Feel free to leave a comment with your choice.
FileDateTime
23-Aug-2016 16:21:04
model
Canon EOS 350D DIGITAL
fileModifiedDate
5. August 2009, 21:08
DateTime
29. September 2007, 15:21
29. September 2007, 15:21
details & comments (0)
Categories
The permalink address (URI) of this photo is:

http://gwhyte.co.uk/blog/2007/09/too-close/